What can PVC coated barbed wire bring to us?
Views:14 Author:Site Editor Publish Time: 2020-05-10 Origin:Site Inquire
PVC Coated Barbed Wire is a type of modern security fencing materials produced with high-tensile wires. PVC coated means the wire covered with vinyl. The PVC layer not only has a positive influence on the strength and toughness of the material, but also reduces the risk of rust. It also can decrease the wear between layers when we use the wire.
The barbed wire for fence comes from two types, they are hot-dip galvanized barbed wire and PVC coated barbed wires. The PVC Coated Barbed Wire is still popular to strengthen their fence. When the barbed wire being PVC coated, it also improve the service life of the barbed wire.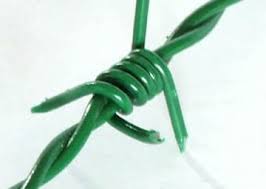 What convenience can the PVC coated wire bring us? Well, It is mounted to accomplish the result of scaring and stopping to the aggressive perimeter intruders. With piecing and cutting razor blades installed at the top of the wall, also the unique designs making climbing and touching particularly difficult. The wire and strip are galvanized to resist corrosion. What's more, the barbed wire designed for the fence is a kind of modern anti-intrusion security fencing materials.
PVC coated barbed wire belongs to one of the barbed wires that can be installed on the top of wall and other building forming barbed obstacles to achieve the guiding functions. PVC coated barbed wire fencing is extremely adapted to control wild animals who are quite strong and fierce. Barbed wire can enhance the protection of the property, as well as to protect pastures and farmland when used as livestock fences.