The application of the slip resistant stainless steel grating
Views:8 Author:Site Editor Publish Time: 2020-04-18 Origin:Site Inquire
In the design and construction domain, our slip-resistant gratings are regarded as the preferred flooring of choice for applications requesting an open or permeable walking surface. Unique laser-welded deposits possess unmatched durability and traction, making this technology a wise choice for requiring environments, especially where exposure to outdoor elements is a factor.
Slip resistant stainless steel grating can be utilized in district where surfaces can probably be slippery and also a lot of movements demanding, for example some kind of workplaces. It is necessary to be applied in these workpalces, where not only are smooth surfaces a safety hazard, they can also slow the motion down, thus reducing the productivity.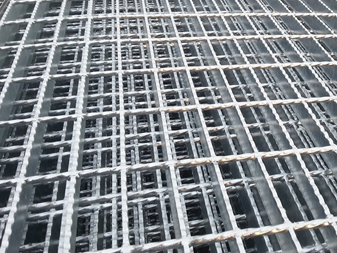 Slip-Resistant gratings are designed for convenient cleaning and used extensively throughout many different industries. To begin with, the steel grating is utilized to resist slip resistance for a variety of safe flooring and walk surfaces, including walk bridges and walkways, platforms, ramps, stair treads and so forth. In addition, we extensively adopt the steel grating as stair tread gratings to guarantee pedestrians to go up and down safely. Futhermore, it is a good option for some flooring surfaces to choose the stainless steel grating, where there is an inherent danger of slipping and falling, especially in damp or wet conditions.